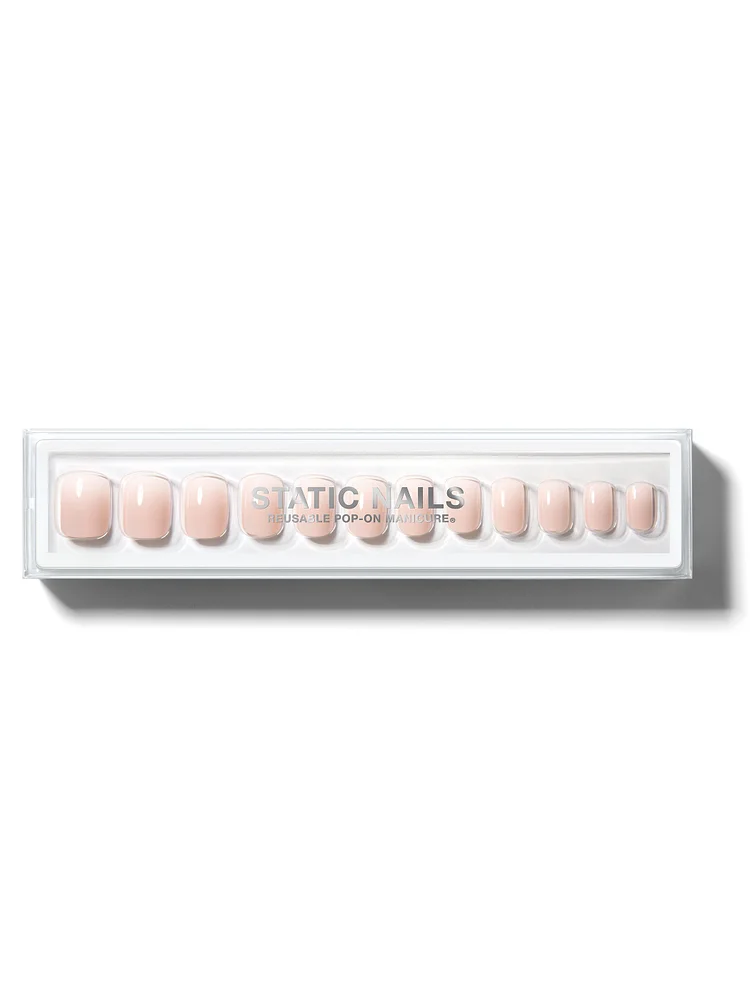 GET SALON RESULTS IN SECONDS WITHOUT THE TIME, DAMAGE, OR COMMITMENT.
Meet the better, long-lasting alternative to gels, dips, acrylics, and press-on nails. Static's award-winning Reusable Pop-On Manicures® give you a perfect, non-damaging manicure in seconds for a fraction of the salon cost.

Wear them weeks straight or a few days at a time—you decide. Each nail lasts up to 18 days and can be reapplied up to 6x for shorter wears. These on-trend, durable nails can be removed, reapplied, painted, and even reshaped for full customization.
APPLY IN SECONDS
REUSABLE
NON-DAMAGING
WATERPROOF
VEGAN & CRUELTY-FREE
HOW TO APPLY & REMOVE 
HOW TO APPLY
STEP 1: Wash hands and dry completely.
STEP 2: Push back cuticles, then select the best fitting nail for each finger and set aside in order.
STEP 3: Apply an even layer of glue (included) to the back of the Static Nail and natural nail.
STEP 4: Place the Static Nail slightly under your cuticle for a seamless, natural look. Press down firmly for 30+ seconds using your thumb. Ensure the entire nail is covered and receiving pressure.
STEP 5: Press out air pockets (if any) before moving on. If needed, use more glue and pressure to avoid air pockets.
STEP 6: If desired, touch up and reshape your Static Manicure using the file included or a nail clipper. Tip: Static Nails can be filed from any side, including the cuticle area, if you want to shorten the length of the nails without losing the tip design.
STEP 7: For best practice, apply Static Rapid Repair Nail & Cuticle
Oil
to keep skin hydrated and repair dry, damaged areas up to 50% overnight (the secret to flawless nails).
HOW TO REMOVE & REAPPLY
To avoid damage never force or pull off. We highly recommend using Static Non-Toxic, Odorless Polish & Pop-On Nail
Remover
to gently, but effectively dissolve the glue
on command
, allowing you to safely remove the nails without damage whenever you'd like.
Otherwise, you can gently push under the Static Nail to lift the sides when they are ready to be removed. If and when ready, the entire nail will "POP" off immediately when light pressure is applied.
To reapply, simply follow the steps above and done!
INCLUDED
- 24 Nails in 12 sizes per hand (fits petite, average, and larger sized nails)
- Static Non-Damaging Glue.
- Dual-sided file/buffer

INGREDIENTS

Static Glue (2g / 0.7 fl oz): Ethyl Cyanoacrylate, Polymethyl Methacrylate, BHA, Red 7 (CI 15850).